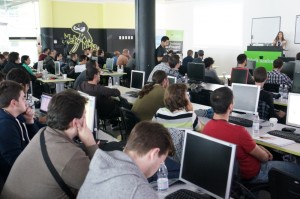 Yesterday I was a speaker on the Bulgarian edition of the largest conference for WordPress – WordCamp Sofia 2013. The topic of my presentation was "How to earn by WordPress?". I talked about the ways in which you can earn money by WordPress. It was a challenge to prepare the topic because all my life I have worked in the field of commercial software and I did not imply that Open Source can be used to earn money. But it turned out that several years working with WordPress I had the opportunity to observe how things happen from two perspectives: а user of WordPress and а developer of plugins and themes for WordPress. I shared my experience and observations of the different channels that can be used to earn.
Here's the presentation (in Bulgarian language) in a PDF format
The conference was very interesting and the topics covered were in two streams: general and for developers. I picked my classes according to my interests and I learned interesting things that will surely be useful in my work.
I thank the organizers for the perfect organization and I hope soon to have new releases to promote this convenient content management system.
Here are some photos from the conference