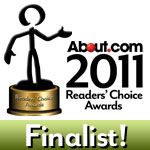 Hello friends,
Brosix is selected as a Finalist in the 2011 About.com Readers' Choice Awards. First of all I wanted to thank you for your support and your nominations.
Based on nominations from outside parties, Brosix made it onto the final ballot in three categories.
Best IM Client for Mac 2011: Brosix
Best Business IM 2011: Brosix
Best IM Feature 2011: Brosix Screen Sharing
Starting Friday, running through March 8, 2011, readers will vote for their favorite instant messenger applications in a variety of categories. So, hurry to vote and make all your friends vote as well.
You can vote for Brosix by following all of these links. It is important to click on each of these links as they vote in different categories.
Vote for Brosix in Best IM Client for Mac 2011
Vote for Brosix in Best Business IM 2011
Vote for Brosix Screen Sharing in Best IM Feature 2011
There's no prize — just the bragging rights that come with knowing that the readers of one of the Web's largest networks love your favourite IM client – Brosix 🙂
The original About.com's voting page is here
Brosix is a chat Internet application, very much similar to AIM, Windows Live and Skype, that you probably use. The difference is that I create it, there are no ads and it is free 😉
You can learn more about Brosix on its web site www.brosix.com