Hello friends,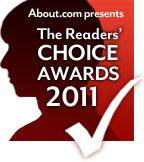 As you know I work on a project called Brosix. The nominations for Best IM 2011 organized by About.com started on Friday 14.
I wanted to ask you to spend a minute and nominate us. Please, enter your name and e-mail and click the "Send" button.
Nominations will be closed on February 4. If we are nominated, with your help, we will participate in the finals.
Could you also please tell your friends about this nomination?
There's no prize–just the joy of winning 🙂
The original About.com's nomination page is here.
Brosix is a chat Internet application, very much similar to AIM, Windows Live and Skype, that you probably use. The difference is that I create it, there are no ads and it is free 😉
You can learn more about Brosix on its web site www.brosix.com